Welding is dangerous if you do not protect yourself completely. One of the sensitive areas where you need protection is your eye. Without wearing eye protection welding becomes risky. How? If you're new let me tell you that during welding such extreme light amount emits that could damage your eyes. This is why eye protection is a must no matter if you're doing any small welding task or the bigger one.
Are you looking for the best welding safety glasses? You've landed at the right place. You see, we say best which means even a minor quality or construction issue in glasses results in damage to your eyes. This is why it is necessary to choose the product wisely before making any purchase.
In this article, we'll discuss the 5 best welding glasses along with a comprehensive buying guide. Wait a minute!! No time to read the complete article? We'd recommend you go for any of these two best products includes Miller Electric Shades 5.0 and LINCOLN Electric CO KH976.
Top 3 Welding Safety Glasses:

Miller Electric Shades 5.0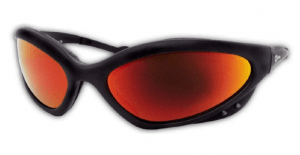 Main Features
Super affordable.
Universal fit.
Stylish frame.

LINCOLN Electric CO KH976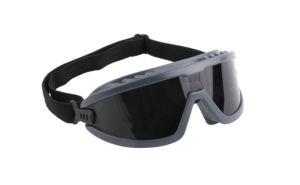 Main Features
Highly durable.
Impressive protection.
IR5 lens for safety.
KwikSafety Welding Goggles Shade 5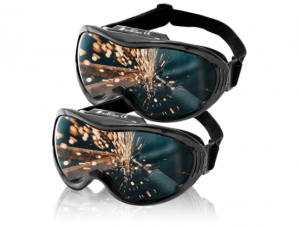 Main Features
Premium comfort.
Multifunctional glasses.
ANSI certified.
Top 5 Best Welding Safety Glasses in 2023:

Miller Electric Shades 5.0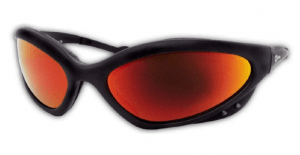 Key Features
Do you require glasses that are stylish, easy to wear, and universal in size? Well, we have the best welding safety glasses for you. These glasses aren't gender-specific so whether you're a man or a woman both can wear this.
The most amazing thing about these glasses is their affordability. Yes, you heard it right. You can get these super cool glasses at such a budget-friendly rate. Isn't amazing? Miller Electric has a great history of providing high-quality and long-lasting glasses.
This means you can't doubt the quality, construction, and longevity of these glasses because the brand already made its name in the world of safety gear. It is made up of a polycarbonate frame and polycarbonate lens for eyes protection.
Polycarbonate is already famous for blocking 99.99% UV rays during welding so this means your eyes will be safe no matter how hard the welding process is. The glasses are equipped with the polarized lenses which provide great protection against UV and keep your eyes safe from any damage.
While wearing glasses for a longer duration we all face discomfort especially on the ears right? Gladly, you'll not face this issue in these shades. Why? The manufacturer already embedded the rubberized ear pads to provide additional comfort to the user. Lastly, the shades come lightweight so you'll not feel any burden on your ears while wearing them.
PROS
Super affordable.
Stylish frame.
Lightweight.
Universal fit.
Polycarbonate lenses.
99.99% UV protection.
Rubber ear pads.
Comfortable to use.
CONS
The frame is of cheap quality.

LINCOLN ELECTRIC CO KH976 Brazing Goggles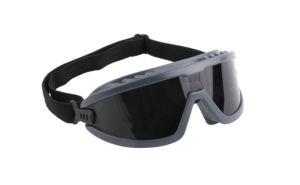 Key Features
Have you been looking for glasses that protect your eyes not only from welding bright light but also from debris? LINCOLN Electric CO KH976 is the one for you. This is the most durable product you can find in the market. That's why we choose it on the second number on your list of best welding safety glasses.
Although this brand isn't that famous as compared to other goggle companies in the market. But we expect that it'll make its name in the world of goggles soon as the company is coming back to back with incredible products.
This is one of the exclusive products by LINCOLN that not only have superb performance but also have proved to be the best by standing the test of time. These goggles come with such lightweight so that you can wear them comfortably for a longer duration.
Aside from the comfort and quality provided, these shades are also highly rated due to their excellent protection. It is equipped with the IR5 lens that is famous for providing the ultimate protection to the user.
While working most of the users face fogging issues but with these shades, you'll never face this problem again. As it is equipped with the proper ventilation system that makes sure to provide you a clear mirror and not make any fog around regardless of the environment.
The next amazing thing is the durable frame made up of ABS plastic having enough capacity to withstand the bumps and falls. With the scratch-resistant lens, you'll always get a clear view while doing the welding tasks.
PROS
Highly durable.
Impressive protection.
IR5 lens for safety.
Scratch-resistant.
Super comfortable.
Amazing ventilation system.
Adjustable strap.
Featherweight.
Excellent UV protection.
CONS
Shades lack side protection.
KwikSafety Welding Goggles Shade 5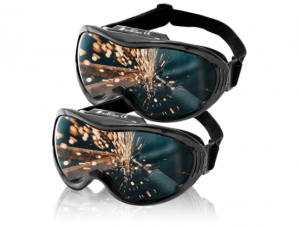 Key Features
This is one of the highly-rated products in the market that's why we place it on the third number in our list of best welding safety glasses. Are you looking for glasses that are anti-fog and anti-scratch? Go for this one. The product comes with 4.5 out of 5 stars which are quite impressive. Whether you're a DIYer or a professional this will suit you by all means.
We say it's top-rated because the product delivers dedicated protection against UV rays and debris. The shade comes with 5 lenses that makes it a versatile tool in the market. Thus you can use it for tasks other than welding projects.
Moreover, the shade comes with a flip-up front panel that aids in changing the lens in no time. The 5 IR lens used in this shade provides super amazing protection against UV rays and waste material.
The frame of this shade is made up of PVC material equipped with anti-scratch features that make the tool durable yet long-lasting. The manufacturer crafted this shade by keeping in mind the user's comfort. To ensure maximum comfort the goggles have a snug fit so you can easily wear them for a longer duration.
During welding fogging up glasses frustrates the user more than anything. Gladly you'll never face this issue while wearing these glasses. How? It is equipped with indirect vents and pressure equalizers that maintain the airflow inside and saves the worker from fogging hassle. Lastly, the shades are quite safe to use and meet the standards of ANSI already.
PROS
Satisfactory eye protection.
Convenient flip-up-front panel.
Hassle-free usage.
Superb viewing angles.
Premium comfort.
Anti-fog & anti scratch shades.
Multifunctional glasses.
ANSI certified.
Stylish frame.

YESWELDER True Color Welding Glasses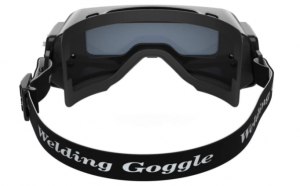 Key Features
Are you looking for auto-darkening glasses? We have the best one for you. It comes with 4.4 out of 5 stars and has exquisite ratings on amazon. No doubt YESWELDER True Color welding glasses are another best welding safety glasses that every welder would love to buy. It has an auto-darkening feature that means the glasses will not only protect the worker's eyes but also save them from harmful radiation.
Once you set the glasses according to your choice, then it'll never bother you to make adjustments again. In this way, you'll never feel irritation while doing the tasks and plenty of your time will also be saved. Fixing the glasses all the time even in between the tasks will put you in trouble. By choosing this product you'll save yourself from all the unnecessary hassle.
The next exciting feature is the glasses can run with solar power. This means you don't need to worry about replacing or checking batteries every time. Just charge it with solar energy and you're all set to go to work.
Moreover, it comes with the option to switch shades that means you can use it for multiple tasks easily. Despite the tinted lenses, you'll see the true color of each item the same as you see them with naked eyes.
PROS
Shows the true color of items.
Auto-darkening system.
Solar-powered.
Automatic shade adjustment.
Easy to handle.
Superb eye protection.
Highly versatile.
CONS
Not suitable for high-end tasks.
Some users find it uncomfortable.

Hobart 770095 Welding Goggles
Key Features
Are you on a budget these days? Do you need affordable yet best welding glasses? This one is for you. This is one of the budget-friendly yet best safety glasses for welding available in the market equipped with #5 shade level. It means you can use it for different purposes including basic welding, grinding, and others.
We'd suggest you go for this one if you need to deal with small or medium-level welding-related tasks. However, to get the additional protection you can even change the shaded lens with the higher-level one. It comes with large pockets so you can easily wear your prescription glasses inside the welding goggles.
To see normally when not doing any task you can flip the shaded cover upward and see the world. With the adjustable elastic bands, you can easily make the glasses fit yourself as per your requirement. The glasses are chunky in appearance but still maintain to have lightweight. That means your ears will not start aching after wearing this. Lightweight glasses are quite handy and comfortable to use.
PROS
Budget-friendly.
Adjustable elastic band for ultimate comfort.
Flip-up eye cover.
Easy to use.
Replaceable lens & cover.
CONS
The viewing angle is odd.
Not so durable.
Buying Guide for Welding Safety Glasses:
What to Consider When Choosing Best Welding Safety Glasses
Using eye shades or goggles during welding is a must and very important for your own safety. The eyes are a delicate area and a little carelessness could lead to permanent damage to them. This is why it is necessary to take all the precautionary measures while doing welding tasks.
No matter if you're a DIYer, do welding for fun or professional taking care of your eyes is a must by all means. While selecting the Best glasses for welding there are few main factors that you should strongly consider. What are those factors? Well, we are going to tell in detail about all the important features to consider before making any purchase.
1. Design
Welding glasses are available in different styles. Some have the traditional design, others come with flip-up panels. You might be thinking why the style or design of the glasses is an important factor? If the style isn't appropriate you'll never feel comfortable while performing any task. Let's suppose you need a break but do not want to take off the glasses as it'll require a lot of energy to put them back.
If you're wearing traditional glasses then sadly you'd have to take off the shades otherwise with the flip-up panels you can easily remove the shade from your eyes with one click. This shows how comfortable the flip-up panel design is.
However, in the end, all the styles and designs mainly depend on the budget you've. Traditional glasses are also good and work perfectly in protecting the eyes but there's less comfort in wearing them.
2. Shade Number
Are you a beginner? If yes then might not understand the importance of this feature. But the welders who are worth their salt would definitely understand how crucial this factor is. Lens shades are available in different numbers starting from 3 to 14.
The darker the display shade means higher is the number and vice versa. Well, a welder should've chosen the lens range according to the brightness level they need to deal with every day. Every welding task has a different brightness range that's why to choose the lens shade that meets the brightness level.
Those who are working with moderate or low brightness production can go for shade 3-5. However, the ones who need to deal with advanced welding tasks that emit more brightness should choose the shades to range from 8-14.
3. Comfort
If you're comfortable with the glasses you'll definitely not be able to concentrate on your task. In few tasks, you might wear the glasses for a longer period this is why comfort is important to consider before making any purchase. Some of the products have rubber ear pads, rubber nose tips, and adjustable headbands that make them most comfortable as compared to others.
4. Ventilation
What is the benefit of wearing glasses when it covered with fog all the time? Ventilation is the factor that is directly related to your comfort. During welding, heat is produced and you end up having sweating that causes fog on the lens. With the excellent ventilation goggles, the fog will never be produced and you'll comfortably focus on your task.
5. Material
The material of the lens and frame matters the most while making any purchase. Good material with a high-quality lens means the goggles will last long and vice versa. Hence, if you do not want to buy a pair of goggles every month then focuses on the material before buying.
Get the glasses made up of good quality and strong material that shows great resistance to scratches. Make sure to check if the material is resistant to heat or not to avoid the hassle later.
What are FAQs About Welding Safety Glasses
Q1. Do the welding glasses protect against welding flash?
Yes, the glasses definitely do!! However, the protection mainly depends on the shade number and glasses model you choose for yourself. Those who need to deal with huge welding flashes daily should get themselves a pair of goggles that are mainly made to provide ultimate protection against flash.
Q2. Which is the safe shade for welding?
There's no specific safe shade because the safety level depends on the type of welding you deal with. Those who need to deal with the low-end tasks should go for shade 3. However, for the high-end tasks shade, 8 or more will be suitable.
Q3. What does the shade number mean?
The shade number shows the darkness of the lens. For example, the shade with the number 3 lens is lighter than the shade 14 which shows the darker image.
It might be unexciting yet difficult for you to find the best welding glasses, but we are sure that by reading this article you'll be able to make a wise decision. We mentioned a detailed guide that will help you to get a better idea about which factors are important and why to consider them. Best Safety Glasses For Welding mainly depends on the type of your tasks and comfort level. Take your time and make an informed decision to avoid the troubles later. Best of luck!!