Jackson is one of the leading companies of helmets. Welding is no doubt dangerous and to stay safe from all the damage mostly welders go for the Jackson welding helmets. This brand knows what the market needs and always comes up with something different.
Jackson offers a wide range of helmets from budget-friendly to high-priced premium models. Their helmets are famous for their excellent optics, super amazing quality, advanced technology, and high comfort. Not only this but the helmets is also known for their durability and long-lasting features.
Whether you're looking for an advanced technology helmet or required an affordable helmet with high-quality Jackson has all of them. Regardless of the affordable rate, you'll never have any complaint related to the quality, construction, or performance of Jackson welding helmets.
Jackson offers multiple welding helmets with unique buildup made for specific purposes. Are you looking for the best Jackson welding helmet? Make sure to check if it suits your budget or requirement. In this article, we'll discuss the high-rated yet best Jackson welding helmets in detail so you'll easily figure out which one is best from the rest.
Wait!! Don't have enough time to go through every detail? No worries, simply jump to our highly rated and best of best products including Jackson Safety BH3 & Jackson Safety 46148 HSL 100.
Top 3 Best Jackson Welding Helmets:
Top 5 Best Jackson Welding Helmets in 2023:

Jackson Safety BH3 Auto Darkening Filter Welding Helmet
Key Features
Jackson Safety BH3 is one of the top products made by this brand and is considered the best Jackson welding helmet for professionals. It is created by keeping in mind the lightweight to provide comfort and have impactful resistance. The helmet comes with a curved front plate whose main purpose is to reflect the heat away.
Don't worry about the lens fogging issues while using this helmet you'll never feel any hassle. Some of the helmets drop during tasks where you need to chin down to see the things. No matter whether you need to look downward or upward the helmet will never leave its place.
As the tool has a tapering shape and comes with an outward curving base that doesn't let the helmet fall. The helmet is embedded with the auto-darkening filter lens delivering excellent optical clarity and has super amazing angular dependence. Moreover, the lens comes with a 1/1/1 true rating which is impressive.
With the variable shades ranges from 9 to 13 you can easily switch to the required one according to the task. These shades provide high-end shields and protection to the eyes. The helmet is already equipped with delay, sensitivity, and shade adjustments for multiple welding tasks.
You just need to select the level of your choice as per task requirement and enjoy high-end visibility plus great safety. Another amazing thing is filter contains dial type inside adjusters so you can customize the helmet easily.
It has AAA-sized batteries which are long-lasting. Overall, this helmet is of great quality, lightweight, and quite comfortable to use for longer durations. It has a great viewing angle and offers 5 years of warranty life.
PROS
Best optics and excellent viewing angle.
High-density hood.
Lightweight.
Shade ranges from 9 to 13.
Equipped with infinite dial adjuster inside.
Strong construction.
Impressive protection and safety.
Wonderful head and neck coverage.
Auto-darkening filter.
CONS
Some users find the curved cover glare uncomfortable.

Jackson Digital Auto Darkening Filter Welding Helmet
Key Features
The second product we choose in our list of Best Jackson Welding Helmet is Jackson Safety 46148 HSL100. It comes with 4.8 out of 5 stars and is approved by the number of users as excellent safety gear.
If you're looking for a helmet that assists you in welding, grinding plus torching at a narrow space then go for this one. This is one of the best high-end helmets made by Jackson in terms of quality, performance, and safety.
It is all in one product by that we mean you can enjoy 3 modes while using this helmet. The item allows you to weld, grind, and torch on the go. You can easily use it for different jobs other than welding. And the amazing thing is you'll not need to get any other safety gear for grinding or torching.
It has a digital cover shade with variable ranges including 9 to 13 making the helmet flexible for every welding task. Whether you need protection from dark light or bright one this helmet has all the shades for your comfort. Don't worry about the neck strain while using it.
The helmet comes with lightweight and outstanding comfort. It is based on the patented technology means you'll not face any hassle while switching from light to dark modes. To minimize the chances of blockage while welding the helmet offers a wide viewing angle using 4 sensors.
For sensitivity and delay adjustment you can use the digital controls embedded in the tool. It is considered best for the MIG, TIG, and Stick welding tasks.
PROS
Based on patented technology.
Best viewing angle and lens clarity.
User-friendly digital controls.
Versatile tool.
Highly safe to use and meet the standards of ANSI already.
Featherweight.
Comfortable shade switching.
Replaceable batteries.
3 different modes in one helmet.
CONS
The view field is relatively narrow.
Jackson Safety Ultra-Lightweight Insight Welding Helmet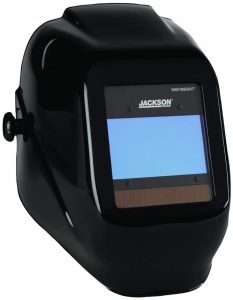 Key Features
Are you looking for a top-notch product with digital shade? We have one for you. This is one of the best Jackson welding helmets in terms of quality, sensitivity, response time, and performance. It is constructed with 4 sensors that work perfectly to block harmful rays.
The helmet has already been updated with 1/1/1 means great clarity and providing true color. It comes with a viewing area of 3.93 x 2.36 and offers excellent vision at every stage of welding. You can use it for working in tight spots due to its narrow shape.
Furthermore, the helmet is equipped with variable shades ranging from 9 to 13 and has such a quick response time. It has a user-friendly digital control that allows you to make adjustments related to sensitivity or delaying without any hassle.
With such amazing and high clarity, you can enjoy the true colors, easily recognize each color plus having excellent visibility. One can use this premium quality helmet for different tasks including MIG, ARC, TIG, and STICK welding processes. This helmet provides greater protection against the face and eyes. Users love the exceptional viewport and swivel adjustment of this helmet.
PROS
Ultra-lightweight.
Equipped with 4 sensors.
Exceptional viewing angle.
Delivering optical clarity.
Easy digital controls.
Multiple height adjustments.
Rechargeable batteries.
Easy gripping.
CONS
Too narrow for fitting a respirator.

Jackson Lightweight SmarTIGer Variable Auto Darkening Filter Welding Helmet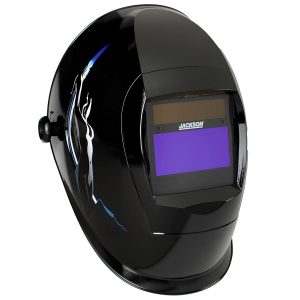 Key Features
If you're on a budget and looking for a helmet with unique features then go for this one. This helmet is the same as the BH3 only the viewing area and hood design is different. Same like other helmets mentioned above this one also has the same shades ranging from 9 to 13.
This is a lightweight helmet with hassle-free sensitivity and delaying adjustments. You can enjoy the real color and super clear visibility while wearing the helmet. It has high density and is equipped with a plastic shell that protects your head, neck, face, and ears.
The helmet has based on the balder technology boosting the viewing angle and has an auto-darkening filter. Due to the front cover, there are fewer chances of heat buildup and fogging issues.
Having a lightweight helmet can make the tasks comparatively easier as you'll not need to worry about neck or head pain. Don't worry about battery charging issues the helmet is solar-powered and gets charged fastly on time.
PROS
Impressive optical clarity.
Adjustable delay, sensitivity, and shades.
Comfortable to use.
No neck strain issues.
Excellent heat protection.
Digital control for ease.
Good quality and robust buildup.
Exquisite viewing angle.
CONS
Not good for grinding.
2 arc sensors aren't enough for abstractions.

Jackson Lightweight Protective Face Mask Welding Helmet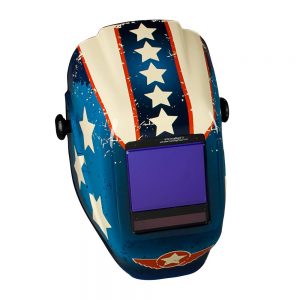 Key Features
Lastly, we have Jackson Welding Helmet 46118 in the list of Best Jackson Welding Helmet. This is an updated model with arc angle design and is made up by using 4 sensors. The helmet works to provide the ultimate protection against dangerous rays.
While wearing this helmet your head, neck, ears, and eyes will be safe from any kind of harmful items including rays, debris, etc. It offers maximum clarity and allows the user to see the true color of everything around.
You don't need to lift your hood to check anything as the helmet already provides an excellent viewing angle. Most of the welders love the Arc angle mono of this helmet. This helmet provides the next level of protection and support at such an affordable rate.
It is quite a flexible helmet that easily fix in every environment and works perfectly for all the welding tasks. Your eyes will never be exposed to any damage due to 4 independent arcs. In addition, the helmet is equipped with replaceable AAA batteries with 3600hr life. Lastly, you can easily switch to any mode including grinding, welding, or cutting by using the separate button.
PROS
Auto-on & Off.
Superb optical clarity rate.
Wide viewing area.
Adjustable settings.
5 years of warranty.
Long battery life.
4 arc sensors for maximum protection.
Digital selecting system.
CONS
It has a very narrow shape.
The user claims that warranty life is less than 5 years.
Buying Guide for Best Jackson Welding Helmets:
What to Consider Before Buying Jackson Welding Helmets?
Jackson is well known for its helmets due to superb quality, advanced technology, great optics, lightweight and high-end durability. Each of the helmets made by Jackson is equipped with all the high-end features. Now, this is the point where the confusion starts.
How do choose the best from thousands of products available in the market? No worries we are here for your rescue. You just need to check few factors before making a purchase and in this way, you'll get to know if the product is worthy enough or not. Now, let's move to the main factors while buying the best Jackson welding helmet.
1. Quality
Undoubtedly Jackson is one of the leading companies of helmets and always comes up with quality products. Still, you need to check the material quality before purchasing the helmet. There's no use of a helmet that breaks into pieces after one use. Or having a helmet with bad quality will put you in hassle instead of giving the protection. This is why check the quality of the product before purchasing it.
2. Protection
Every welder knows the type of their tasks and the level of protection they need. Jackson helmets come with multiple sensors and flip-up covers along with auto-darkening filters. Not only this you can also switch to the shades of your choice. However, there are some products not offering these features. Make sure to check if the helmet providing ultimate protection and safety before purchasing.
3. Viewing Angle & Color
There's no use of a helmet if the viewing angle is narrow or poor. One has to purchase a helmet with a wide viewing angle. Not only this make sure to check if the helmet allows you to see the true colors of everything around or not. Lifting the cover in the middle of a task just to check the color of a thing will make you frustrated. This is why one has to get the helmet allowing the user to see colors around and it'd be best to choose the helmet with true color technology.
4. Sensors
There's a general yet unofficial rule that users shouldn't go for the helmet with less than 2 sensors. Helmets with one sensor will not be able to provide the required protection. However, welding is not an easy thing and everyone needs high-end protection from harmful rays. Purchase the helmet equipped with 2 or 4 sensors to get the desired safety. Higher the sensors more will be the capability of the lens to detect the flashlights and providing protection.
Jackson is a brand that always made top-quality helmets. Most of the best Jackson welding helmets are available at affordable rates. This means no matter how much budget you've you'll get a quality product for sure. The helmets made by them have lightweight, high durability and some of the products are best for narrow spaces.
Jackson mainly focused on the production of helmets with the ability to see true colors and wide viewing areas. Whether you're a professional, beginner or a DIYer Jackson has high-quality helmets for all of you. Get the one that suits you and don't forget to tell us which one you've picked.